Logic Pro has become one of the most widely used DAWs in the years since it's inception, especially since it's purchase by powerhouse Apple in 2003 making it a staple of music-making on Mac OS. Two years ago Apple released Logic Pro X, the tenth instalment in Logic Pro's lifetime, which introduced a virtual drummer and flex pitch among many more features.
Yesterday Apple released their free update to Logic Pro 10.2, an ambitiously large update which introduces loads of new features and fixes. The stand-out addition in 10.2 is the sample-based software synthesizer Alchemy, confirming rumours that Alchemy creators Camel Audio had been acquired by Apple.
Alchemy is of course just one of the new features included in the update and we'll get to it soon enough but for now lets take a look at what else we get with Logic Pro 10.2.
Existing Logic Pro owners, who get the update for free, will be treated to 1000 new apple loops and will now be able to share songs directly through Apple Music Connect as well as using Force Touch controls on compatible MacBooks. An update to MainStage, a companion to Logic that focusses on live use, that allows users to play Logic's software instruments in real-time in a performance based setting.
Logic's Smart Controls have been enhanced allowing two units to be used simultaneously as well as the loop recording feature that creates multiple tracks out of multiple takes.
Now back to the juicy bit, Alchemy. Alchemy will come included with 3000 new presets and a hefty 14GB sample library. Those who have used Alchemy before will instantly recognise the interface despite it's new flattened look to be more in-line with the style of Logic.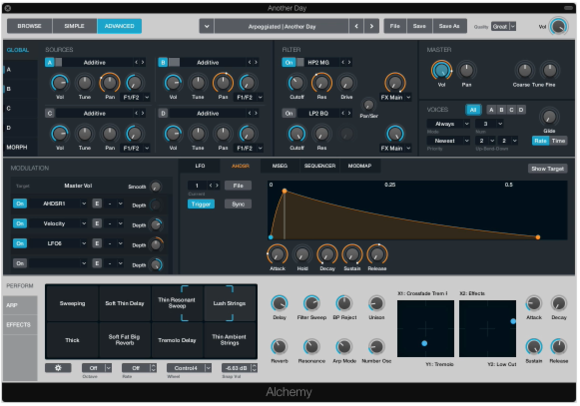 Alchemy works using audio samples and allows the user to manipulate tempo and pitch in realtime. It comes with 40 filters and 17 effects and is capable of resynthesis, rebuilding a sample as a synth sound, thanks to it's synthesis engine. Apple are also introducing the "transform pad" which contains eight segments where you can place different sounds or parameters that you can mix and morph with a drag of your cursor.

The update also features a host of unknown bug fixes and tweaks. Logic Pro 10.2 is available now as a free update for existing users from the Mac App Store Updates section. For new users Logic Pro X costs $200 and users must have at least OS X 10.9.
Here's a breakdown of all the main features in the Logic Pro 10.2 update:
Alchemy
Next generation synthesizer plug-in with multiple sound generators including; additive, spectral, formant, granular, sampler and virtual analog.
Over 3000 presets for all types of electronic music including electronic dance, hip-hop, rock and sound for picture.
Integrated keyword preset browser for finding the right sounds quickly
Performance controls like the Transform Pad make it easy to explore and reshape sounds.
Combine up to four synth modules to create complex, multi-layered sounds.
Virtual analog oscillators produce authentic recreations of iconic synth sounds.
Wide selection of modeled analog and special effect filters for producing sounds with vintage character and tonal complexity.
Create animated, dynamic instruments using over 100 modulation sources that include flexible LFOs, AHDSR and MSEG envelopes, and step sequencers.
Manipulate and combine samples in new ways using unique collection of morphing and resynthesis tools.
Import EXS24 instruments or create your own using a robust set of sampler features.
Apply independent arpeggiators to each of the four sound sources to transform simple chords into elaborate performances.
Integrated effects rack with reverb, modulation, delay, compression and a range of distortion effects.
Logic 10.2
Share directly to Apple Music Connect (requires Apple Music Connect account).
Share and backup files to Gobbler (requires Gobbler third-party subscription).
Adds support for Force Touch trackpad.
Create custom track icons with your own image files.
1000 new Apple Loops from a variety of popular instruments and genres including EDM, Hip Hop, Indie, Disco, Funk and Blues.
There are now independent settings for the handling overlapping MIDI recordings depending on whether Cycle is on or off.
It's now possible to set Replace mode for audio recordings independently depending on whether Cycle is on or off.
It's now possible to create new tracks with the same channel strip instead of creating a Take folder when recording audio in cycle mode.
Expanded MIDI clock options improve sync compatibility with external midi devices.
The new As Time Quantize option in the Piano Roll Snap menu sets the snap value to follow the Inspector quantize setting.
Audio regions can now be non-destructively reversed using either a check box in the Region Inspector or a key command.
Quantizing large audio files is much faster Usability tweaks and performance updates.