How Spotify personalizes music according to Spotify's Vice President of Personalization
Image Credit: Spotify
Oskar Stål, the Vice President of Personalization at Spotify talks about how Spotify recommends listeners new songs based on those they love.
In an interview with Spotify For the Record, Oskar Stål talked about how personlization came to Spotify, how it works and where it's going in the future. When the service launched 15 years ago, Spotify functioned more like a library, letting users find and play the songs they already knew and loved, but with tens of million of tracks available on-demand, streaming opened up possibilities that the online music stores before them could never have done.
Perhaps the best examples of personalization and a favourite feature among fans are Spotify's discovery playlists Discover Weekly and Release Radar. Updated every Monday, Discover Weekly is a collection of unheard songs based on the songs you love, while Release Radar, updated every Friday, is a collection of new songs from the artists you love. Both playlists are perfect for finding new music tailored to you. But personalization on Spotify doesn't end there. The music streaming service has personalization baked into the experience from the home page the moment you sign up.
Spotify are constantly working on new and exciting ways to implement personalization across the platform. Launched earlier this year and updated daily, Spotify Mixes is a hub of playlists sorted into genres, artists and decades that you've shown an interest in. Each playlist is full of songs you love and the ones Spotify thinks you'll love. Launched just last month, Spotify Blend merges two listeners' taste profiles to form a playlist updated daily that combines the favourite tunes of both users. The most recent feature Spotify Enhanced is a toggle that adds suggested new songs that fit well into your custom-made playlist.
---
Perhaps you're a 46-year-old dad with three kids and no time to discover music by yourself, or a student looking for inspiration. It's most helpful when you're served something up and know it will be a mix of what you like and what you might like. Then you'll stay for more.

If we really wanted to make you stay on the app three more minutes, we would play your favorite song. All we'd ever have to do is play your favorite 20 songs on a loop. But that would mean you're not discovering anything, and you'd eventually get tired and bored of the audio experience.

Oskar Stål, Vice President of Personalization, Spotify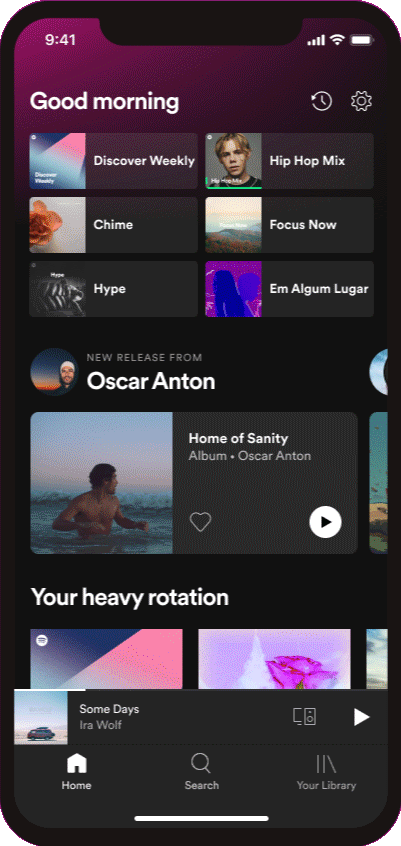 ---
Personalization goes deeper, with editorial curated playlists offering up the perfect playlist for every occasion without have to trawl through endless songs.
Songs to Sing in the Car might not look personalized, but it is. Each person is seeing music that fits that categorization, but that is also in line with what they enjoy listening to. In fact, there isn't just one Spotify experience. There's more like 365 million different experiences—one for each user—that's deeply personalized to their wants and needs.

Oskar Stål, Vice President of Personalization, Spotify
---
How does personalization on Spotify work?
Personalization on Spotify uses machine learning. Improving over time, each song is recommended using a complex code-based system with thousands of inputs.
Imagine you and another person have similar music tastes. You have four of the same top artists, but your fifth artists are different. We would take those two near-matches and think, 'Hmm, maybe each person would like the other's fifth artist' and suggest it. Now imagine that process happening at scale—not just one-on-one, but thousands, millions of connections and preferences being considered instantaneously, and always updating. Every day, half a trillion events, whether they are searches, listens, or likes, take place on Spotify, powering and guiding our machine learning system.

Breakthroughs in machine learning have really allowed us to rethink how we can help users discover new audio content. While in many instances machine learning has remained focused on solving for the immediate click—'You like this song. Let me offer you more of the same kind of music'—we're now able to better understand content and the ways listeners and creators relate to it.

Oskar Stål, Vice President of Personalization, Spotify
---
The future of personalization at Spotify
As they continue to dominate the market, Spotify sees opportunities for further personalization in podcasts. However Spotify stress it's much harder to gage whether listeners are enjoying a show or episode as it takes longer than the typical 20 seconds it takes for most to judge a song.
We're investing heavily in developing the world's best-recommendation algorithms to power connections between podcasters and listeners. We already have a really good system in place thanks to over 10 years recommending music, and it turns out that we can even predict what kinds of podcasts a listener might enjoy based on their taste in music.

Oskar Stål, Vice President of Personalization, Spotify
---
Personalization on Spotify doesn't only benefit the listener. Spotify provides a fantastic opportunity for smaller artists to break into the mainstream and develop a global audience.
Personalization is really a two-way street. The insights we've gathered allow us to see that there might be a Finnish artist who has music that would be a hit in Latin America. And we have the opportunity to bring that music to those listeners in Latin America through our personalization channels. This then introduces the artist to a more global audience that might not have been able to discover them on their own.

Personalization is essential to the listening experience. What we're really working towards is creating a more holistic understanding of listeners by optimising for long-term satisfaction rather than for short-term clicks, offering them a more fulfilling content diet. Listeners are on a journey of discovery, and we want to help them have the best experience as they discover the millions of audio content available on Spotify.

Oskar Stål, Vice President of Personalization, Spotify
---
To get your own music on Spotify and discover your next biggest fans, sign up to RouteNote today for free global music distribution.